---
AWAKENS ITS FELINE INSTINCT
Spurring your cat to move and play is key to reducing stress.

Interactive play stimulates the cat by increasing the speed of the feather and making it play harder and harder.
FEATURES
SAFE - Thanks to tested materials, the interactive game is environmentally friendly and safe for your cat.


DYNAMIC - The interactive system makes play increasingly difficult by reversing movements and increasing speed.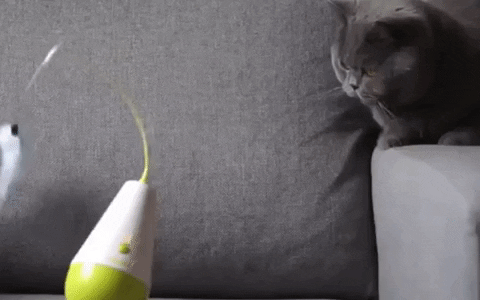 FROM COMPANION - Perfect for those who are often out of the house, thanks to the interactive game the loneliness for the cat will be only a distant memory.


FOR ALL SIZES - Whether it's a puppy or an adult cat, it will be his favorite pastime.


RESISTANT - Premium non-toxic materials make the toy impact resistant, ensuring maximum durability.
WHY IS PLAY IMPORTANT FOR CATS?
Play is essential for cats as it allows them to give free rein to their natural instincts such as observing, exploring....

But play is not limited to this, it is in fact also a symptom of good health and happiness of your cat, all factors that contribute to its overall well-being.
Take the opportunity to cultivate the love for your cat by preserving its desire to play throughout its life!
OUR GUARANTEE
With our free 4-10 day shipping we deliver hundreds of products every day. If you have any questions, the support team is at your disposal 365 days a year.